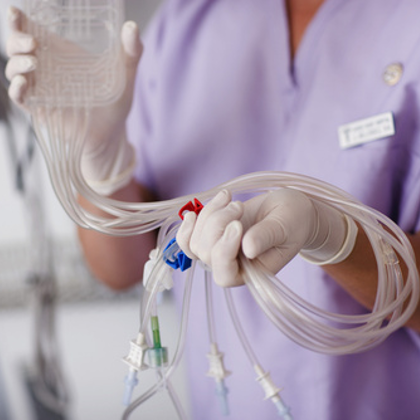 ZELAS™ TPE specialty compounds series offers a comprehensive portfolio of soft, transparent TPE elastomers for medical tubing extrusion.
KEY FEATURES
PVC-free
Oil/plasticizer free
Flexibility
Clarity/transparency
Kink-resistance
Dimensional stability
Low stickiness
Low migration
High heat resistance
chemical and kink resistanCE
Some ZELAS™ TPE specialty compounds are formulated without oil, resulting in low migration on surface and minimal stickiness.
Typical properties of ZELAS for medical tubing

| Property | Unit | Value |
| --- | --- | --- |
| Density | g/cm3 | 0.89 |
| Hardness (1) | ShA | 55<>80 |
| Haze (2mmt) | % | 10<>20 |
(1) Lower hardness available on request
Compared to PVC, ZELAS™ offers more stability against specific drugs by not absorbing such liquids.
Another advantage is high resiliency and excellent non-kinking performance.
COMPLIANCE
Most of ZELAS™ grades are designed to be compliant and tested to Pharmacopoeia and/or food regulations, relevant for materials only.
Before using our products, please make sure the legal regulation, conformity and safety limitation in the individual application by testing.
To confirm which of our ZELAS™ products will be suitable for your application, please consult us.
---
Remarks:
Values only describe typical properties and may not be considered as specifications.
Not all grades are available in all regions, please contact your local sales representative.
Would you be interested by other possibilities of ZELAS™, please visit ZELAS™ product page