WELCOME TO MCPP,
Performance Polymer DEPARTMENT OF MITSUBISHI CHEMICAL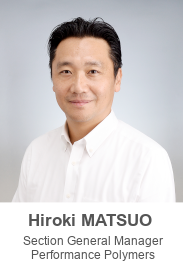 THESE ARE OUR COMMITMENTS:
BE A GLOBAL SUPPLIER FOR CUSTOMIZED SOLUTIONS & PERFORMANCE SPECIALTY POLYMERS
Leveraging our wide product line capabilities, market knowledge and close collaboration with customers and suppliers, we intend to bring adapted innovative services and solutions to demanding requirements and taking into account strong environmental, health and comfort concerns.
Because we believe in the benefits of a global approach with local presence, MCPP operates in 17 countries and 34 locations over the world.
DEPLOY THE KAITEKI PRINCIPLES, FOR THE SUSTAINABLE WELL BEING OF PEOPLE, SOCIETY AND OUR PLANET EARTH
KAITEKI is an original concept of the Mitsubishi Chemical Holdings Corporation Group that proposes a way forward in the sustainable development of society and the planet, in addition to serving as a guide for solving environmental and social issues.