TECHNOLOGIES
MCPP technologies for multi-layer film are designed for the bonding of materials with non intrinsic chemical adhesion:
MODIC™
BioPBS
ADHESION
TO

PE/PP
EVOH
PA
PBT
PET
Metal
Glass

Acid grafted functional polyolefin / adhesive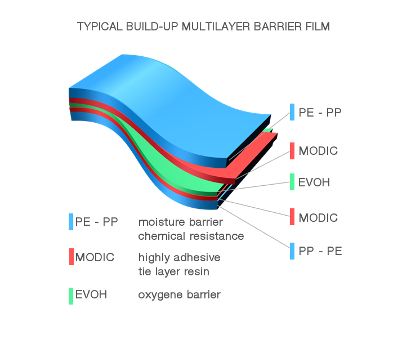 polymer
KEY FEATURES
High adhesive strength

Excellent bonding strength to PE/PP, EVOH, PA, PET, PBT, PS and aluminum foil.
Polyolefin-like properties
Heat stability (Retortable)・easy processing・oil resistance
Wide Variety Applications
Co-extrusion blow film (mono & multi-bubble)・cast film・extrusion coating ・heat lamination film
Compliance for food contact regulation
---

Semi-crystalline biosourced and compostable polyester resin
KEY FEATURES
Design for dry lamination
Soft and flexible™
Excellent heat-sealability with low heat seal temperature
Higher gas barrier than LDPE
Good to retain aroma such as limonene
Suitable for food contact such as weak acidic, fatty and oily food
As sealant this can be used by co-extrusion or dry lamination with cellulosic materials and bio-plastics
FOOD CONTACT AND ENVIRONMENTAL COMPLIANCE
According to grades and applications BioPBS™ is registered as food contact approved and passes the most demanding bio-based and compostable requirements.
BioBPS™ is certified by official bodies, please contact your local representative for more details.
BioPBS™ Food contact and Environmental Certifications
FOOD CONTACT
BIO BASED
COMPOSTABLE

BP (Biomass Pla) 299/300
ASTM D6866
DIN Certco 8C084 / 8C085 / 8C083

US, BPI (certif. 10528580)
Europe, EN13432
OK COMPOST - OK COMPOST HOME
by Vincotte (certif. S.534)
Japan, GreenPla (No.1103 & No.1104)