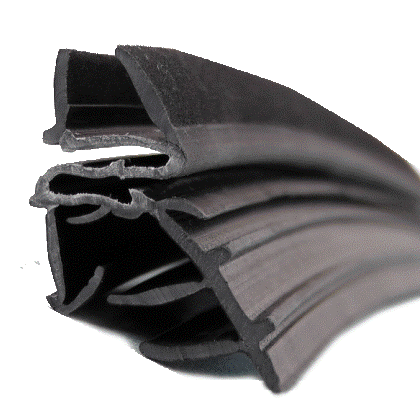 TECHNOLOGIES
These semi-dynamic sealing applications involve sliding of glass across the seals, thus demanding the materials have very unique performance requirements. Each application requires different materials for the core, seal lip, skin, slip coat, and corner or end-cap.
Glass-run channel (extruded profiles with over-molded corners)
Belt-lines (inner/outer)
For more than two decades, Mitsubishi Chemical has provided materials used in sealing systems for many of the best seller car models.
TREXPRENE™ TPV is supplied in both partially or fully crosslinked types, providing a broad range of grades that are used for the seal lip, core, corner, and end-cap applications.
TEFABLOC™ TPE & TPO includes a comprehensive range of products specifically adapted to each functionality of automotive seals and weather-strips, and are used for the seal lip, core, corner, skins, slip coat, corner, and end-cap applications.
TPE-S (SEBS styrenic block copolymers)
TPE-SV (styrenic block copolymers cross-linked by means of a patented process)
TPO (Olefin thermoplastic elastomer)
PP compound
SUNPRENE™ high performance flexible PVC and VINIKA™ PVC are also used for belt-lines with special aesthetic requests, especially when mated with a bright finish (chrome or piano black), and are used for the seal lip, core, skins, slip coat, and end-cap applications.
MODIC™ APO is a specialty tie layer that can bond un-like materials together, for example bonding PVC or TPE to metal, and offers the manufacturer a cleaner and easier alternative to liquid adhesives.
FEATURES
LIGHTWEIGHT WITH HIGHER PRODUCTIVITY
In addition to a low density, TREXPRENE™, TEFABLOC™, and MODIC™ are compatible with PP and with each other. With this technical advantage, the steel may be replaced by talc filled PP as the carrier, contributing to a decrease of up to 30% in weight and huge cost savings, and the adhesives may be replaced with MODIC™ allowing for a cleaner, more consistent process. Additionally, the fine-tuned rheology of our products provides a fast output with high productivity and low scrap during production.
DESIGN
Thanks to a smooth surface aspect and product consistency, not to mention our ability to color match to your requirements, we can support the design of an attractive sealing system for you and your customers. In addition, we offer a variety of extruded skin options, in both TPO and PVC, that can meet your gloss requirements of a 5 gloss all the way up to a 90 gloss.
All grades are tailor made to suit the application for which they were intended.
We are constantly tracking the trends in the industry to bring next generation materials to the automotive sealing market to address our customer's evolving needs.
DURABILITY
Our materials are designed to exceed the ever-demanding exterior requirements in the automotive industry. Check out our many automotive approvals in the link at the bottom of this page to find the product needed for your new program.
SUSTAINABILITY
Our materials are fully recyclable, even when used with muli-material extrusion designs of the same family.
We are constantly working on new materials that incorporate bio-content, post-consumer-recycle (PCR) content, and post-industrial-recycle (PIR) content. Talk with your local Sales Representative to learn more about our offerings.